How to Cancel Twitch Prime: : Master Guide
How to Cancel Twitch Prime: : Master Guide
If you want to know and are constantly searching online for How To Cancel Twitch Prime, you have come to the right place because here you will know how to disable Twitch Prime or How to Cancel Twitch Prime forever by using some short and working method. Still, before going further, you should know what twitch is and its benefits.
Twitch is an online video-sharing platform where gamers can easily do live streaming. Twitch is very popular among gamers and tech geeks. This company comes under Amazon Global, and it is also Twitch's parent organization.
You can upload pre-recorded gaming videos and do live streaming on Twitch, just like we do live streaming on YouTube.
The only difference between these two video streaming platforms is that you can share any video on YouTube, and on Twitch, You can only post videos related to gaming. But I am not saying that YouTube is better than twitch. Both are amazing on their own.
You May Also Like: How to Lock Your Facebook Profile
What is Twitch Prime and its benefit?
After Amazon buys Twitch, it comes under Amazon, which you can buy with Amazon Prime or take its free trial, and if you like it, you can extend your subscription.
If you want to subscribe to Twitch, then you have to subscribe to Amazon Prime first, and then you can use twitch whenever you want
but wait, you can enjoy it only in some countries like Canada, the United States, Mexico, the United Kingdom, Germany, Italy, France, Belgium, Austria, Spain, Japan, Netherlands, Luxembourg, and Singapore.
If you live in countries where twitch services are unavailable, you will not get free twitch from amazon prime.
But if you have a Twitch subscription that comes with Amazon Prime, you will be given many benefits that will make you different from a normal Twitch user. You can know about all these benefits below.
Monthly Free Twitch channel subscription:- If you will create your account on Twitch and connect Amazon Prime with your Twitch then you can subscribe to only one channel for free using your free trial benefits. if you subscribe to Twitch Prime then every day for 30-days you will get one subscription to a Twitch channel. After subscribing to a Twitch channel, you will get special badges, exclusive emoticons, and many more benefits so that you can stand out from the normal Twitch user and enjoy all the benefits of Twitch.
Every month you will get free Games:- Every month you will get new free games on the platform so that you will not get bored on the platform and you can also enjoy the best games on it. It is an awesome benefit for Gamers if they buy Amazon Prime.
In-Game Loot for popular Games:- After subscribing to Twitch Prime, you will get games as well as In-games loots like in PUBG, you will get exclusive emotes, gun skins, premium outfits for your avatar, and many more benefits in all games.
Exclusive Free emoticons:- Enjoy the Best Premium emoticons with your free Amazon Prime + Twitch subscription.
Expanded chat color options:- You can change chat color options by just making the combination of three colors "RGB" that you can also change in the future if you would have a Twitch subscription.
Chat Badge:- Once you will get a free trial of Twitch, you will also get a member-only chat badge when you post any comment on any available channel on Twitch that you have subscribed to.
You May Also Like: How to Fix Broken Registry Items
How to avail these benefits on Twitch
Note: To enjoy all these benefits, you must first be from the countries where twitch is supported. If your country is also included in those countries, then you can take its free benefits.
You will need to be a Member of Amazon Prime to avail these benefits. You can subscribe to Amazon Prime by paying a subscription fee or trying the free trial of it.
Firstly, Go to the official web page of Twitch which is this " twitch.amazon.com/prime "
Now click on the "Try Twitch Prime" Button.
If you are a Prime Member and didn't have created a Twitch account then following the "Try Twitch Prime" link you can create a twitch account and connect your twitch account to amazon prime.
Now you know How you can avail all the benefits of Twitch Prime, but if you have already subscribed to Twitch Prime and have used all the benefits and want to cancel it, then below you can read a step-by-step Guide on How to Cancel Twitch Prime.
How to Cancel Twitch Prime
To cancel the Twitch Prime account membership, first, you have to follow some steps, which you can read about below.
Firstly, Open this "Twitch.tv" website on your device and log in using the correct credentials.
After login, click on your profile>> Settings.
After clicking on Settings, A new page will open up, Now move to the "connections" tab.
Here you can see all the services which you have linked to your twitch prime account.
If your Amazon Prime account is connected with Twitch Prime, it will show there, if it is connected then clicks on the "Disable" button it will be located in front of the "Amazon" logo.
Now you have successfully disabled your twitch prime benefits. If this method did not work for you, you can scroll down and read the second method on How to Cancel Twitch Prime from your Amazon account.
How to Cancel Twitch Prime from your Amazon account
Open your web browser and paste this link on it https://www.amazon.com/
Now click on the login button which will be located under "Account and List".
After clicking on "Account and List" a sub-menu will appear, Now click on Sign in and put the correct email address and password here. The email must be common on both amazon and Twitch accounts.
You will have to put correct login credentials on the Amazon login page, After it, the page will be automatically refreshed and that will redirect you to the amazon.com website.
Here click on "Account and List" which will be located on the top right corner of the website.
You will be redirected to a new page which is called the "Your Account" page, scroll down to the bottom and find other accounts.
Once you find the "Other Accounts" Tab, click on "Twitch account settings"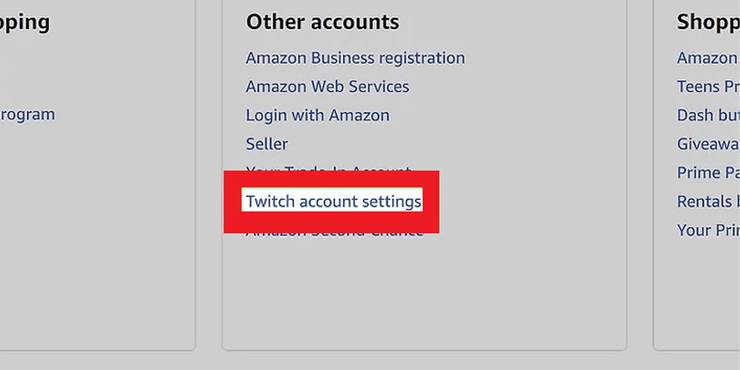 8. A new page will open here. You will find all details of your Twitch account, but we have to disconnect your twitch account from your Amazon account, So click on "Unlink Account."
9. Now, it will display a pop-up in front of you, saying do you want to unlink your Twitch account from your Amazon account, because we have to do this, now we will click on "Unlink this Twitch account".
You May Also Like: How to change your Minecraft Username (Gamertag)
but this task can be reverted because if your Amazon Prime membership is valid and live, you can connect it in the future if you want to use its services. But if you don't have a subscription, you cannot reconnect it to your amazon account. You will need to buy amazon prime to use its benefits.
How to Cancel Twitch Prime by deleting your Twitch Account
Open this link on your web browser https://www.twitch.tv/user/delete-account
On the top right corner click on Log in, Now Here fill up your username and password and click on the login button.
And here on the last step click on "Delete Account".
But once you delete your twitch account, you will not be able to recover it in any case. So if your account is not very important for you, you can use this method to cancel the subscription of Twitch prime, or you can leave this method.
What will happen if I will not cancel my twitch subscription
After 30-days, your Twitch account will be unlinked automatically, after which you will not need to apply any method as your Amazon Prime membership will expire after that.
If you do not want the bill to be added to your credit card, then disable it ahead of time so that you can avoid any charge on your monthly bill. Once your Twitch membership expires, you will not get any premium benefits. You will get benefits as a normal Twitch user gets.
Does twitch Prime charge after a free trial?
If you do not cancel your Twitch Prime membership within 30 days So when your Twitch Premium subscription will expire, you will have to pay $12.99 a month, which will be automatically deducted from your account if you have made automatic payments toggle on. To avoid this charge, unsubscribe from the Twitch subscription before 30 days.